OUR QUALITY ANCHORS ARE HANDCRAFTED AND CUSTOM MADE TO ORDER.
Never Lost Anchors are made with quality materials and made to last. We provide two sizes and a kayak size to fit your boat anchoring needs and offer a variety of colors. Our products are made in Southern Indiana and ship anywhere in the United States. Owned and operated by Daniel Rimmer, these anchors are proven to release from even the most stuck conditions.
Never Lost Anchors are designed to use the power of your boat to free themselves from the bottom. See how these proven anchors work in this video:
THE LATEST FROM NEVERLOST ANCHORS
READ REVIEWS FROM OUR CUSTOMERS Joe Butcher
joseph.butcher.94
Ordered mine about a month or so ago best customer service I've personally seen... sent a message to them and next thing I know I'm on the phone with them and my 21# anchors were on the way we use them every weekend and absolutely love them!!! Friday night I was on lake Monroe local to me waves were insane 4 footers no lie and we stayed anchored I absolutely recommend never lost anchors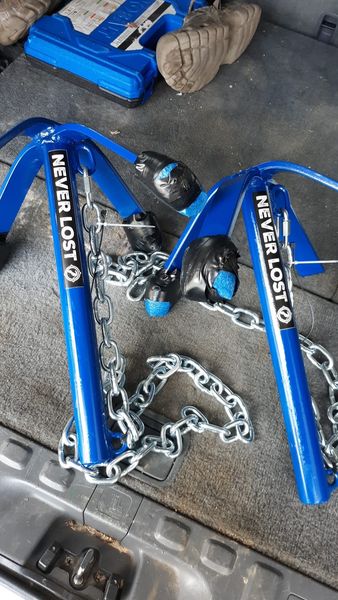 David Pruitt
david.pruitt.77312477
I've used other anchors. and Never lost anchors grab quicker and hold better on our 24ft toon!!!! Daniel is a great guy quick to reply and also maybe a little biased coming from another North Carolina guy !!! awesome work brother appreciate the fantastic anchors
Brant Bullock
brant.bullock
Used mine for the first time this weeknd and it was rough out! Never had 1 second of issues or slipping . She hit the bottom and stayed put. 10/10 thanks!!
Palmetto Cats
YouTube Channel
In this quick tip I show you my new river anchors from Never Lost Anchors. I also show you how I store my anchors on the boat. #anchor​ #neverlostanchors​ #fishinghack
View Video Here
Josh Wood
They work great!! Play around with the zipties as you go and find a good breaking strength for your setup! We are extremely pleased with the ones we run and recommend to them as often as we can ! Great guy to boot!
Fred Greenwell Jr.
fred.greenwell.75
I have had my anchor for over a year now, you can't go wrong by buying one of these for your boat. It is worth the investment for sure. Tight lines
Dieter Melhorn Fishing
@Dieter Melhorn Fishing
See our anchors on Dieter Melhorn Fishing YouTube review.